LIKE TRANSPARENCY? SO DO WE!
New Greens is a superfood drink powder inspired by the active, outdoor lifestyle of Encinitas, CA — a place we call home. Unlike other green drinks, New Greens ingredients are only sourced from North American farms. We NEVER source from China. Period. It's part of our promise to you to go beyond organic, and trust in every step from our farms to our formula. What's more, we freeze-dry all our produce so you get the delicious whole food nutrients (not just the juice) and the green goodness doesn't get destroyed by heat. And let's not forget our sprouted ingredients, thoughtfully included to make sure our greens are easily digestible for optimal nutritional benefit.
Do we make it easy on ourselves? No! Is it worth it? 100%!
DRINK. YOUR. GREENS.
Phytonutrients. Antioxidants. Vitamins & Minerals. Green vegetables are packed full of some of the essential nutrients our bodies need but typically lack in our modern diets. Organic produce is expensive, and daily juicing is a grind (and removes all the fiber content.) That's why we created New Greens — a carefully crafted combination of superfoods that deliver an optimal, on-the-go nutrient boost. Just one scoop of our powder delivers the nutrient value of 2 full servings of fresh, organic produce.
How's that for a smart drink?
THE NEW GREENS DIFFERENCE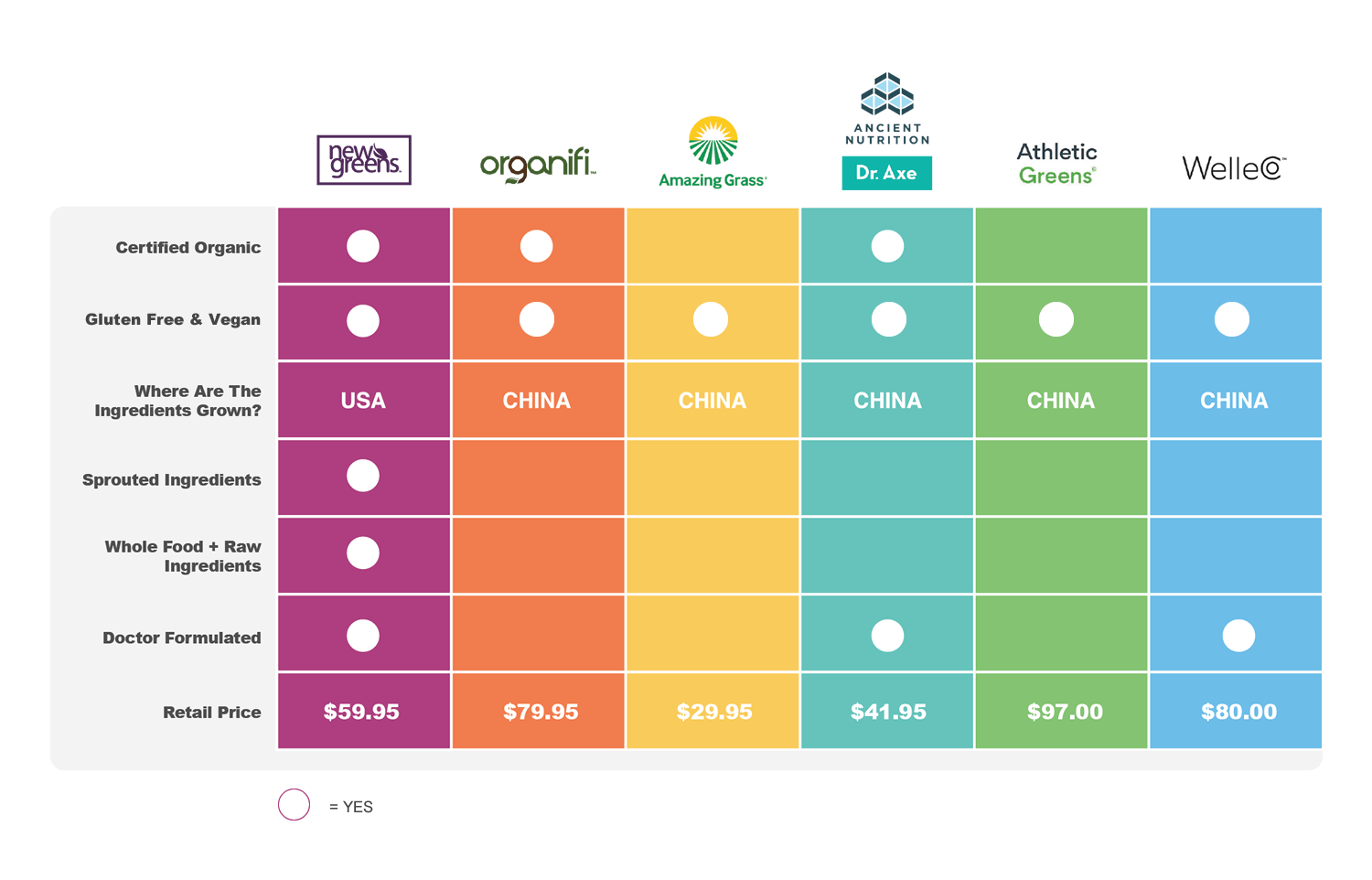 SOURCING FROM NORTH AMERICA VS. CHINA
Did you know that most organic greens powders are sourced from China? We choose to source all our greens ingredients from North American farms instead. We do this because we believe in going beyond the organic certification and knowing first hand that there is no industrial runoff or polluted water affecting our greens. What's more, it's estimated that only 2% of organic products exported from China are audited for authenticity. We are not OK with that.
FREEZE DRIED VS. SPRAY DRIED
Most greens are spray dried before they are turned into green powders. This method uses only the juice of the greens (without the fibrous content) and heat. Our freeze dry method uses the whole food and does not apply heat, which means we can retain a superior nutrient density.
SPROUTED INGREDIENTS
Some nutrient powerhouse ingredients can be tough on our digestion, so we include the sprouted version of those. This makes them easier on our digestive system, and allows more nutrients to be absorbed.
SMALL BATCH
New Greens is a family-owned business. We are hands-on with our entire supply chain, from farm to formula. Our products are not white labeled from huge manufacturing plants, but rather created in small batches that we can control for quality.
SUPPORTS ORGANIC U.S. FARMERS
Roughly 1% of US farmland is organic. Organic is better for the planet, and better for you. By sourcing our ingredients from farms here in the US, we hope to play our part in growing that number.